The Bülk is wired for 14.8v. Many people are using a readily available 12v battery without problems (see below), but if you ordered a Bülk with the SL AX Lupine light, most recommend sticking with a 14v system.
In my new Bülk I chose to use a 14.8v battery made for RC cars. I did this for three reasons. First, it's the right voltage for the system. Second, the RC batteries have a second wire that plugs into the charger to allow for balanced charging – making sure every cell is charged equally. This is good for the battery and extends battery life. If you're wonky and want to read more about this, you can read THIS academic article. Third, I already had the charger, because I used the same brand battery in a 12v for my Quest.
On Amazon, I got two 8000mAh 14.8v batteries for $160. These come with a weird EC5 connector that is as different from the 2-pin Molex in the Bülk as can be. It was also different from the connector to the smart charger I already owned, so a few adapters would be necessary. First, I'd need to hard-wire the right connector into the Bülk. For that, I bought EC5 male connectors. Second, I'd need to be able to use the charger, so I got EC5 to Deans T-Plug adapters.
Time to break out the soldering iron. First, I clipped off the Molex connection in the Bülk. Second, I put a really big heat shrink sleeve over BOTH wires on the EC5 connector, then a smaller one on each wire. I soldered each wire in, shrank the heat sleeve over them, and then shrank the big heat sleeve over everything, to double-protect against water and sweat. I also think it looks neater than two heat-shrunk wires. As you can see, the Zeee battery fits perfectly into the Bülk's battery compartment.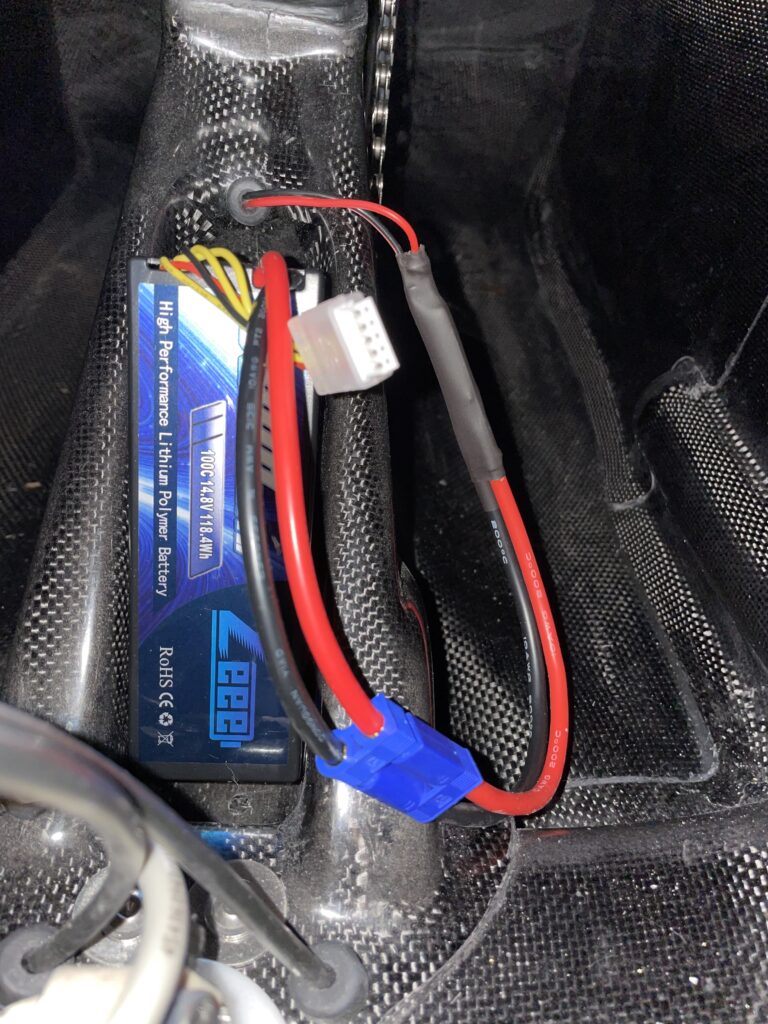 A lot of people are using the 12v LiFePO4 Talent Cell battery. This has one huge advantage – the LiFePO4 chemistry makes it less susceptible to overcharge and fire. While the odds of a fire in a Lithium Ion battery are a bit over-reported (the number is actually about 1 in 10 million) there are a whole lot of batteries out there and if you're that one, you don't want to see your new velomobile, along with your garage, your car, and maybe your whole house, go up in flames. That's why I don't leave the battery in my bike in the garage. I bring it in when I'm done, because the house has more regular temperatures (as well as smoke detectors). It's also why I would only use a 14.8v Lithium Ion battery with balanced charging. The Talent Cell battery also gives you a USB jack, a 12v jack and a 9v jack, which I don't get with the Zeee battery. That's something I'll have to wire in separately, when I get the time.
If you saw the earlier post showing the lighting and visibility you can see that it works quite well. The two batteries give me 236Wh between them, which should be more power than I could use, even if I ran lights and flashers constantly over a two day ride.